Vision and Values
Our core belief is that all children are inherently good.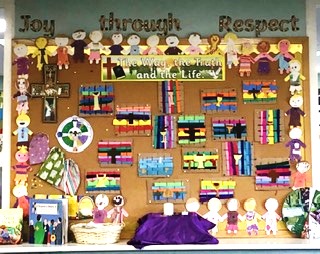 Our Mission Statement is JOY through RESPECT.
We challenge each member of our community to:
Open your heart to the teachings of Jesus,
the needs of Others and then
You will have JOY.
This will be achieved through the showing of RESPECT, which in turn involves a wholehearted attempt to LOOK AGAIN at the people and situations presented to us.
It is in this spirit that we encourage each child to develop their potential - spiritually, academically and physically - in the true spirit of hard work, self-reliance and cooperation.
Our Lady of Pity Catholic Primary School is a welcoming community which promotes British values of democracy, rule of law, freedom, tolerance and mutual respect, through the teachings of Christ. We take the safeguarding of our children seriously and ensure that a culture of safeguarding is maintained throughout the school community.
We are an inclusive community, committed to ensuring equality of education and opportunity for all, irrespective of race, gender, disability, faith, religion or socio-economic background.
All members of our community are encouraged to participate fully in school life and we work with children and families to build a culture in which any kind of discrimination cannot thrive.