What we teach: Subject by Subject
Early Years Foundation Stage (EYFS)
Why Teach EYFS?
Early Years Framework - Statutory Guidance
'Every child deserves the best possible start in life and the support that enables them to fulfil their potential. Children develop quickly in the early years and a child's experiences between birth and age five have a major impact on their future life chances. A secure, safe and happy childhood is important in its own right. Good parenting and high quality early learning together provide the foundation children need to make the most of their abilities and talents as they grow up.'
The Early Years Foundation Stage (EYFS) sets the standards that all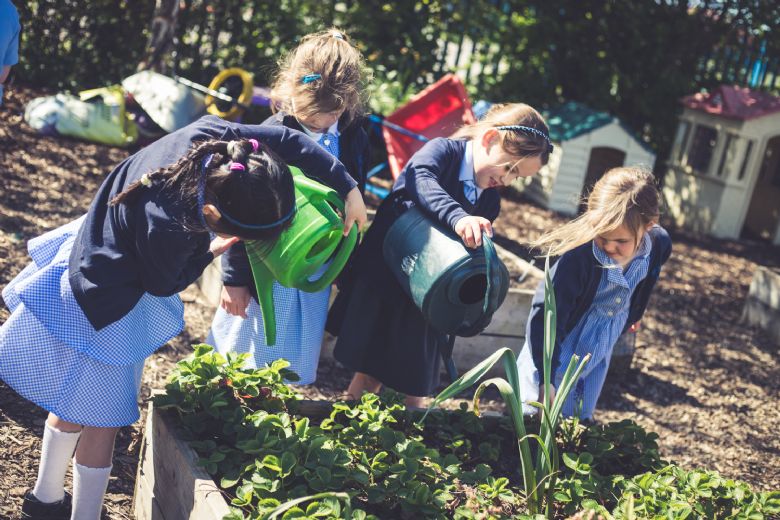 early years providers must meet to ensure that children learn and develop well and are kept healthy and safe. It promotes teaching and learning to ensure children's 'school readiness' and gives children the broad range of knowledge and skills that provide the right foundation for good future progress through school and life.
Overarching Principles
Four guiding principles should shape practice in early years settings. These are:
every child is a unique child, who is constantly learning and can be resilient, capable, confident and self-assured

children learn to be strong and independent through positive relationships

children learn and develop well in enabling environments, in which their experiences respond to their individual needs and there is a strong partnership between practitioners and parents and/or carers

children develop and learn in different ways and at different rates.
In planning and guiding children's activities, practitioners must reflect on the different ways that children learn and reflect these in their practice.
Three characteristics of effective teaching and learning are:
playing and exploring - children investigate and experience things, and 'have a go'

active learning - children concentrate and keep on trying if they encounter difficulties, and enjoy achievements
creating and thinking critically - children have and develop their own ideas, make links between ideas, and develop strategies for doing things.
The Areas of Learning and Development
There are seven areas of learning and development that must shape educational programmes in early years settings. All areas of learning and development are important and inter-connected. Three areas are particularly crucial for igniting children's curiosity and enthusiasm for learning, and for building their capacity to learn, form relationships and thrive.
These three areas, the prime areas, are: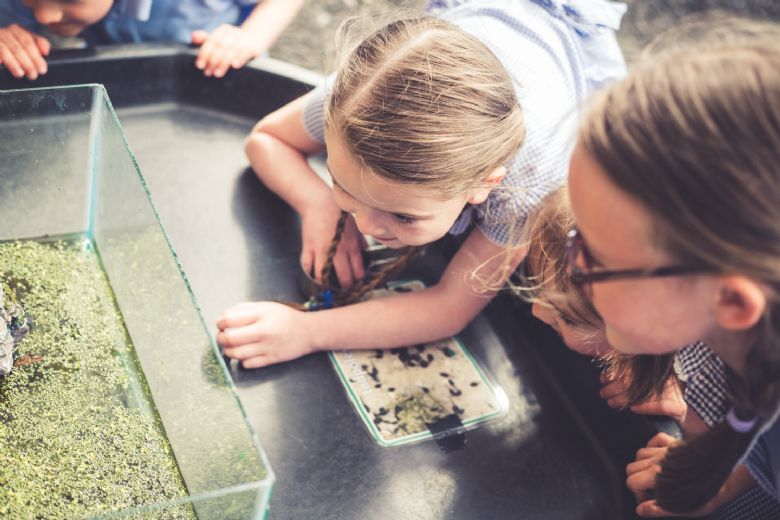 Communication and language

Physical development

Personal, social and emotional development
Providers must also support children in four specific areas, through which the three prime areas are strengthened and applied.
The specific areas are: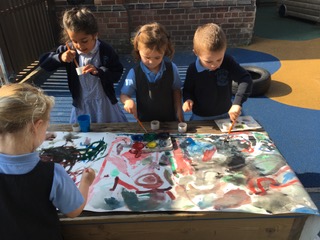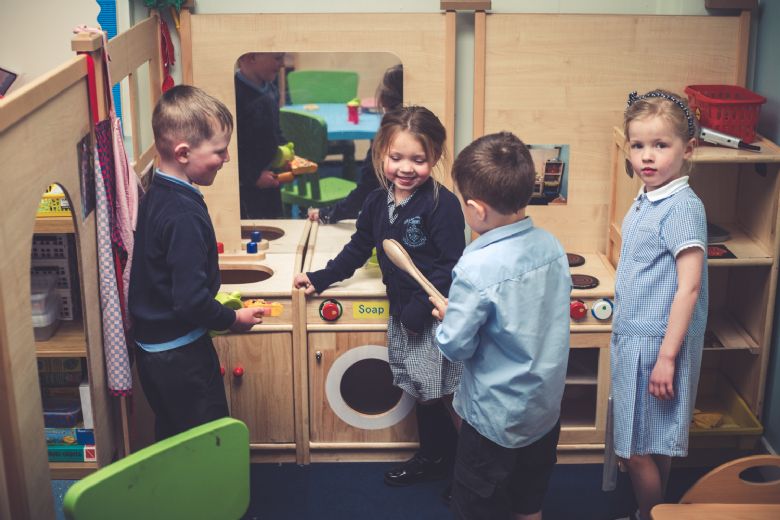 Literacy

Mathematics

Understanding the world
Expressive arts and design
Religious Education
Why Teach Religious Education?
As a Catholic school, Religious Education (RE) is at the heart of everything we do. We teach it not only because it is a requirement from the diocese, but because at Our Lady of Pity, our belief is that every pupil is unique and is created in the image of God (Genesis 1:27).
We reflect back to the children the truth that they are inherently good - especially in their moments of difficulty. In this way we model and teach the fundamental truths of freedom, tolerance, respect and equality - the bedrock of a successful society. It is therefore more than a scheme of work, it is about providing the opportunity for the children to think theologically and ask questions that sometimes there is no answer to, it is about allowing them to be curious and explore the mysteries of God and the world He created.
The teaching of RE is designed to enable pupils to understand the world around them and follow our Gospel values so that they can manage their lives, now and in the future. We bring them to an understanding of 'community' and the importance of relationships within. We teach about how every member of a community has a contribution to make and that they should seek to maximise this. The community goes beyond school, we are a key link to the parish and to the home; we are all one as a family of God, so it is our responsibility to nurture faith and understanding of the Catholic religion. Therefore, RE is seen as the 'lifeblood' of the school that feeds into all we do.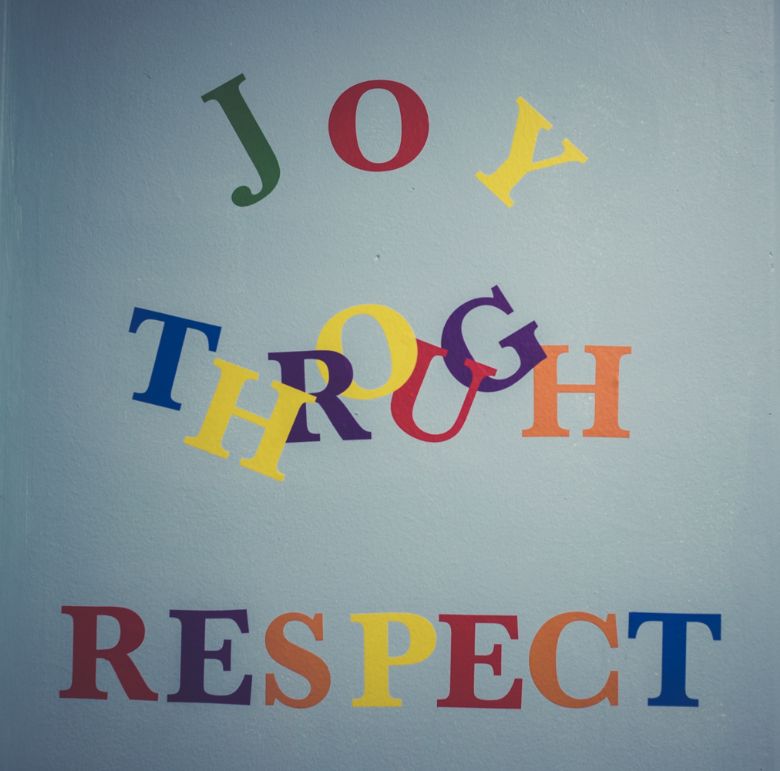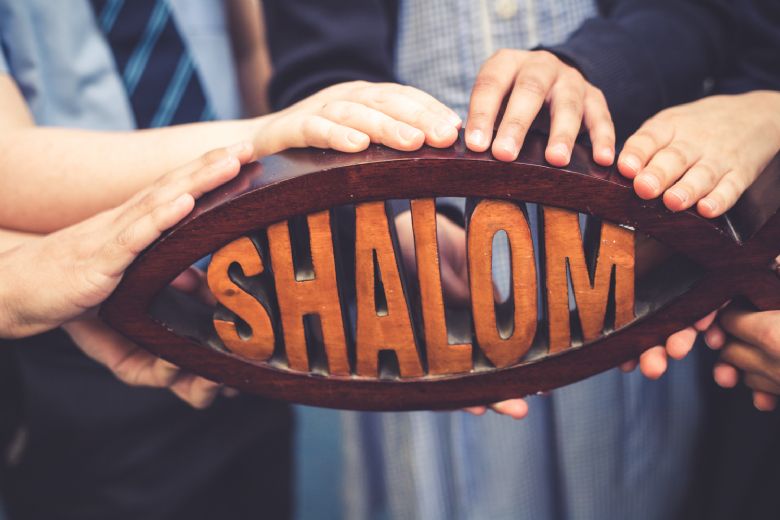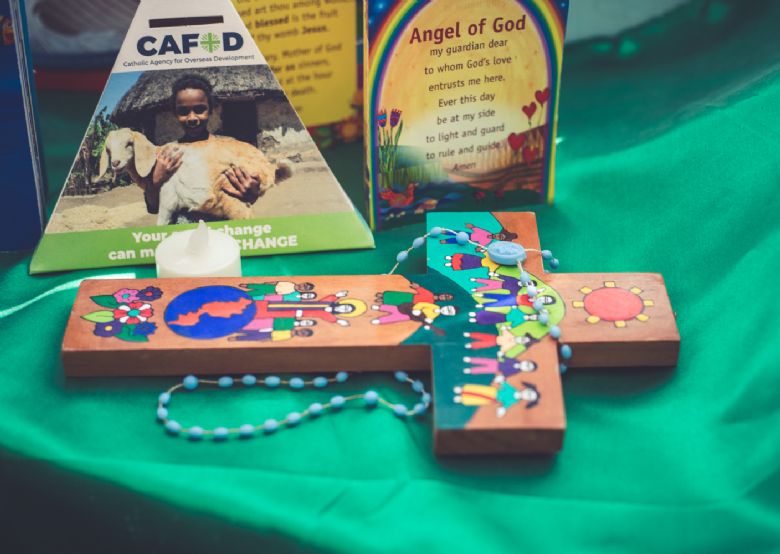 Literacy
Why Teach Writing?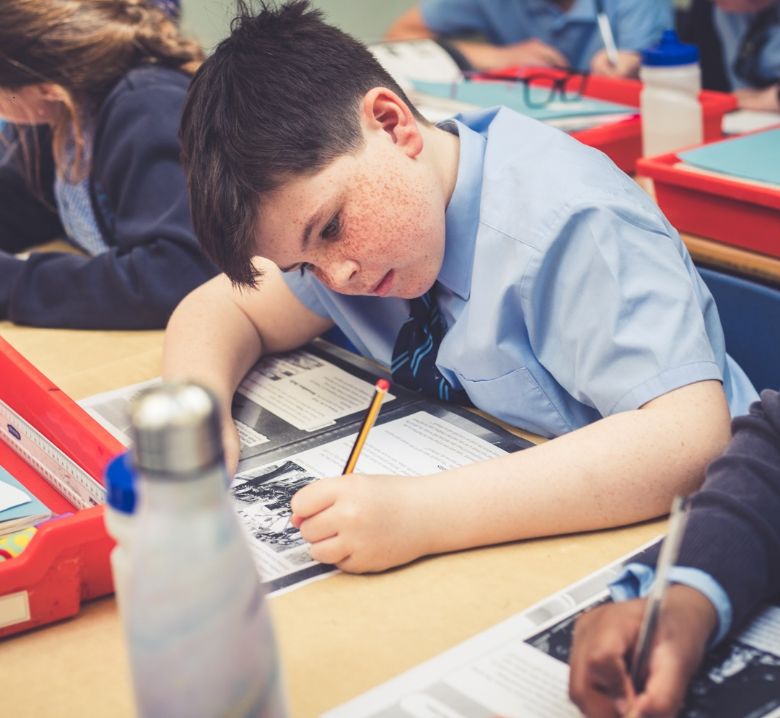 C.S. Lewis, 'You can make anything by writing.'
We believe that children need to know and understand their context in all aspects of life. Deep learning of writing empowers children to be able to communicate effectively across all subject areas which reflect the beliefs and values of our Christian faith.
Writing is communication – to write is to communicate with the world. As social beings, writing has evolved as a sophisticated tool for reaching the past, predicting the future and reflecting on the present. In so doing, it enables us to act autonomously, to respond in an ever-changing world and to tell our story in a timeless, ageless form. The process of writing forces logic, reflection, expression and deep critical thinking; it makes our thinking and learning visible and permanent – it transcends time and is a way to pass stories and information from generation to generation.
In today's technology obsessed world, the gift of writing, and enjoyment of the written word, is more important now than it has ever been. Beyond education, writing is the gateway to opportunity and influence – a way for our pupils to achieve their future aspirations. Literacy skills are inextricably linked: the ability to communicate on paper enables a higher level in spoken word. By equipping our pupils with essential skills such as coherence of thought, speech and writing, we are allowing them to succeed in an ever-changing world.
Why Teach Reading Fluency?
"When you learn to read, you can then read to learn." – Mitchel Resnick, Professor of Learning Research at MIT
The ability to read is crucial because reading underpins all other learning. If a child becomes a fluent reader, they are able to access a plethora of information. It sparks curiosity and has exceptional power to transform, heal and inspire.
Reading fluency creates access to the past, the present and the future. It enables pupils to understand their place in the world and to develop as global citizens.
It provides us with the building blocks not just for academic success, but for fulfilling careers and rewarding lives. Reading is not simply about decoding. It is a metacognitive activity in which the reader is called to understand the world around us. It is fundamental in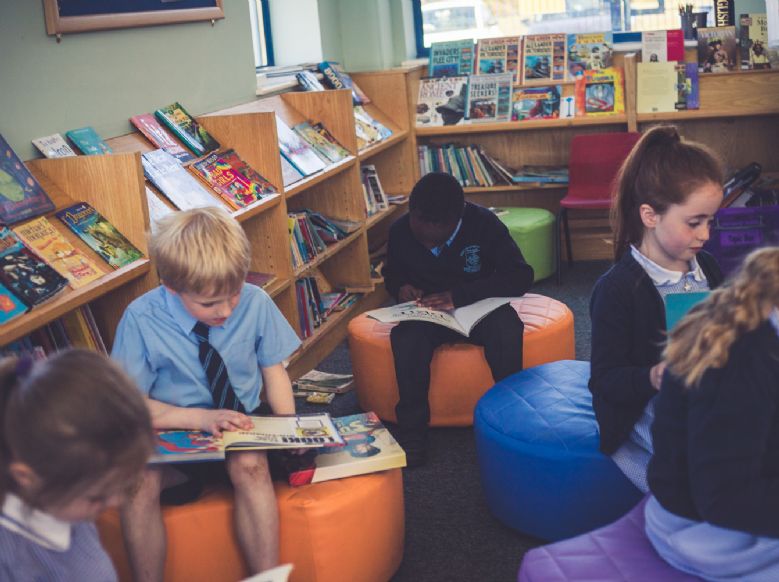 supporting us to form views and opinions.
Through reading, children have the opportunity to hone the skills of prediction, questioning, clarifying, summarising, inference and activating prior knowledge. All of these support learning and allow the children to develop logical thinking and problem-solving skills which are essential for gainful employment. It creates deep thinkers and independence, encouraging learners to find out information for themselves, rather than being reliant on the knowledge of others.
Why Teach Spelling?
"Spelling forces the brain to synthesise its knowledge of a word – to reconcile how the word sounds, how it looks, and how it employs the rules and idiosyncrasies of our language. This is a highly beneficial skill." Karen Hunter 2007
In an age of auto-correct, 'text speak' and spelling software, some would argue that teaching spelling to children is a pointless task; after all, if computers and 'phones can do the work for us, why bother? Others would counter that this couldn't be further from the truth and teaching spelling is just as important as it used to be – perhaps more so. This is primarily because we live in an age of mass communication where more words are being written and read than ever before. Spelling these words correctly is essential in being able to communicate ideas and information effectively and this opens the gateway to learning opportunities for all.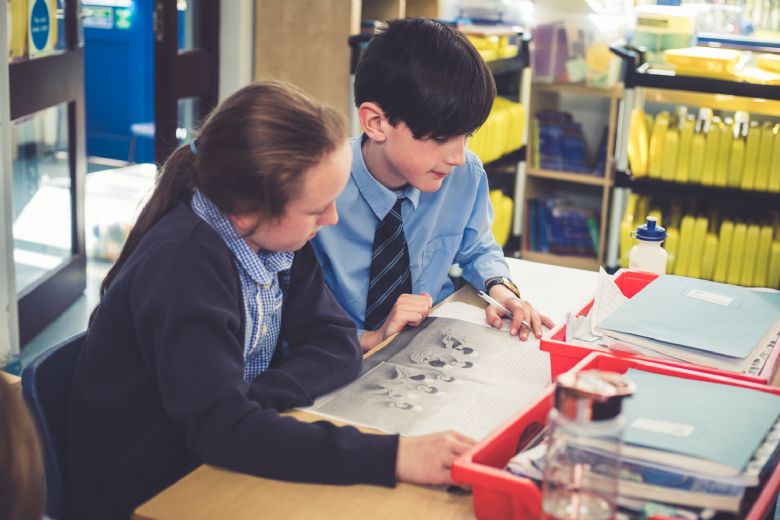 Research tells us that good literacy skills promote the life chances of learners. The body of research is large and reliable. Spelling is one of the basic components of literacy. Good spelling avoids confusion and ambiguity. Poor spelling distracts the reader and compromises the author's intent. L.C Ehri, writing in the Scientific Study of Reading, concluded that it also improves reading ability and will benefit learners in all aspects of their learning, as well as their everyday life.
Mathematics
Why Teach Maths?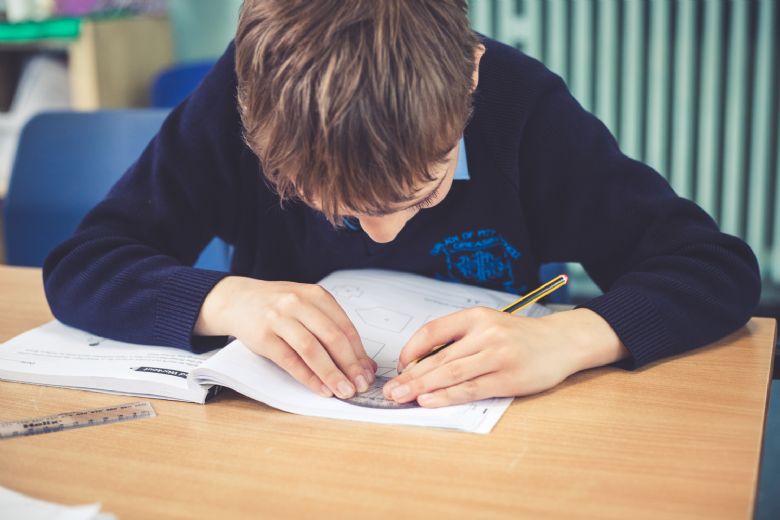 If maths is a universal language that describes how our world works; crosses cultural boundaries; supports us in effectively carrying out a myriad of day-to-day tasks and facilitates our being able to discuss/hypothesise things that aren't even possible, how can we even consider not teaching it?
We believe that effective maths teaching begins with a deep understanding of the nature of the subject. If this is secure, we will know how to teach it effectively, enabling pupils to take full advantage of the benefits: we know that future economic success is directly correlated to good maths achievement. We also know that the key learning skills needed for tomorrow's workforce can be delivered through maths teaching: problem-solving, communication, visualisation, thinking skills, metacognition/self-regulation, reading…to name but a few.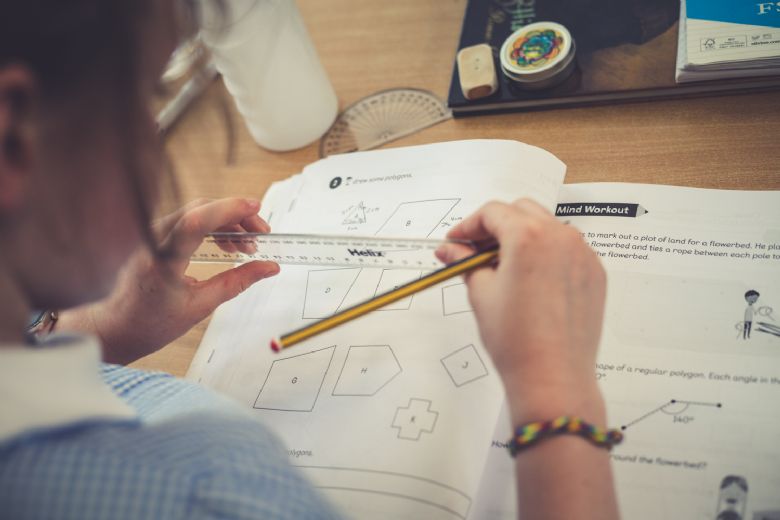 We believe that the widely held cultural view of maths in our country (maths is inaccessible, difficult and pointless) needs to be reversed because in principle, it's neither helpful nor true. At Our Lady of Pity, we know how to apply general and subject-specific pedagogical principles together with expertly researched materials (providing a secure subject knowledge base) to achieve this end. Maths is taught as a compelling narrative, rooted in the pupils' experiences so that it is accessible to all.
Science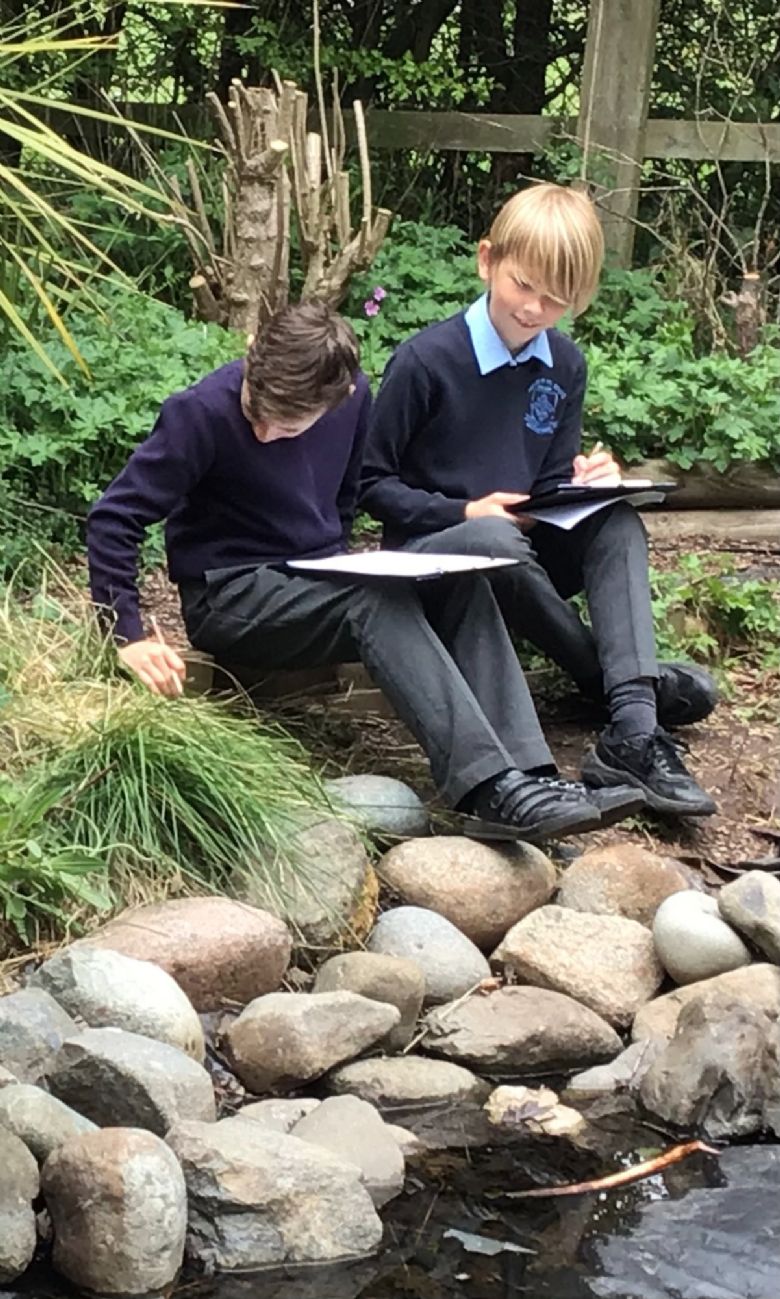 Why Teach Science?
The eminent scientist Richard Feynman encourages us to embrace uncertainty as it is a necessary means to promoting progress. He said, 'In order to progress, we must recognise our ignorance and leave room for doubt.' Can it be then, that the teaching of science is all about embracing doubt and developing enquiring minds?
Science begins with questions. As humans, we are inherently curious and from our very first interaction with the world and each other we ask questions and strive to answer them. Yet the beauty of science is that these questions are never fully answered because the body of what we know will always be outweighed by what we don't know. The world is an enigma for us to explore - a puzzle that has yet to be solved. It is this uncertainty of scientific 'knowledge' that drives us forward and develops us as enquirers. It has long been argued that doubt, alongside optimism, brings out the explorer, the observer, the scientist in all of us.
We study science because it broadens our perspective; it changes how we view life. A study of art, music and many other areas of the curriculum is deepened after we know how the eye sees colour, or the ear hears sound. It develops logical thinking and problem-solving and other essential skills for the future work place: creativity , conjecture, collaboration, resilience, trial and error… to name but a few.
When studying science, we are truly 'standing on the shoulders of giants' and through our interactive and practical approach we enable pupils to see the thinking of famous scientists who have doubted before them. That 'Wow!' moment that Archimedes, Isaac Newton and Stephen Hawking experienced can also be theirs.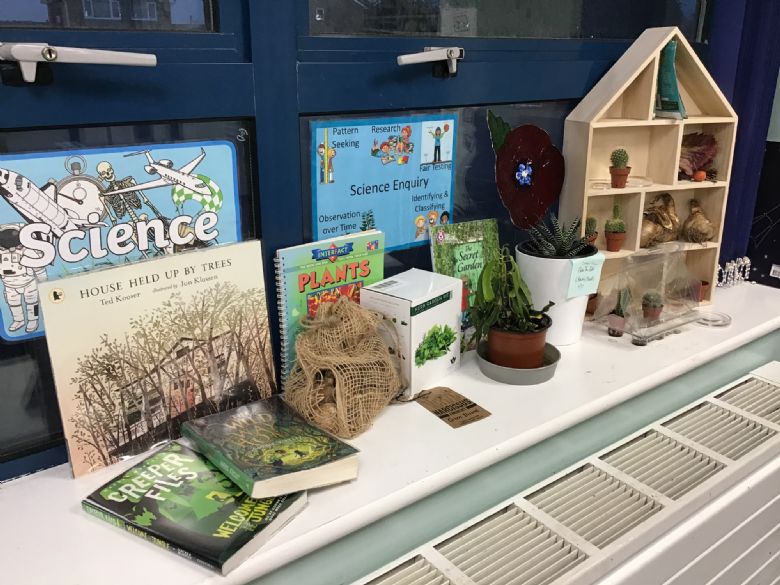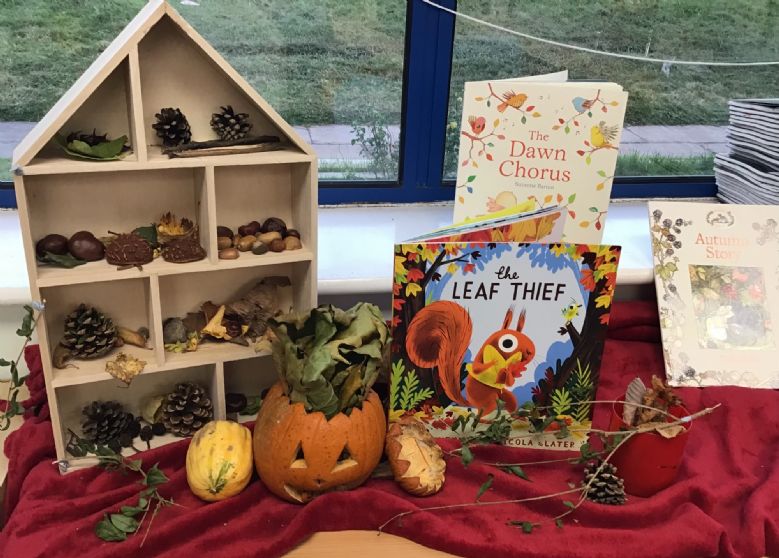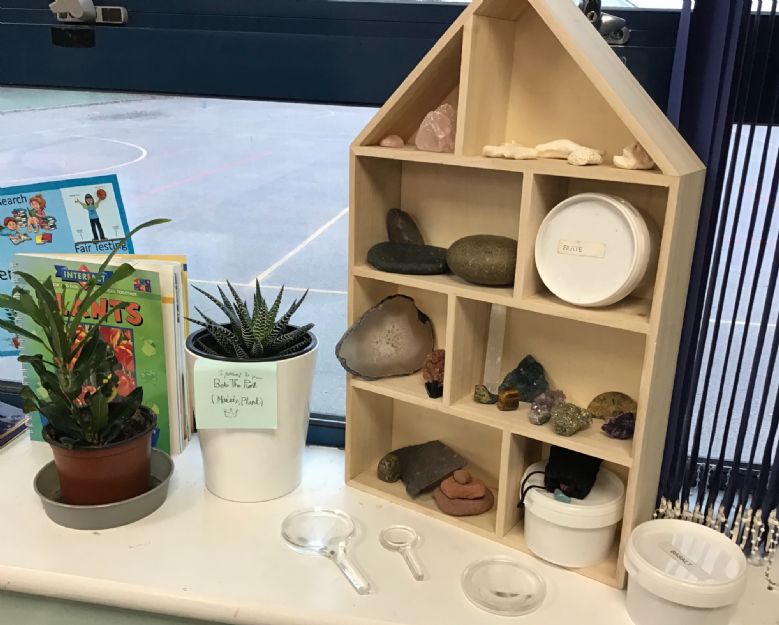 Personal, Social, Health Education (PSHE) and Relationships and Sex Education (RSE)
Why Teach PHSE?
According to the PSHE Association, PSHE education is a school subject through which pupils develop the knowledge, skills and attributes they need to keep themselves healthy and safe, and prepared for life and work. PSHE stands for Personal, Social, Health and Economic education.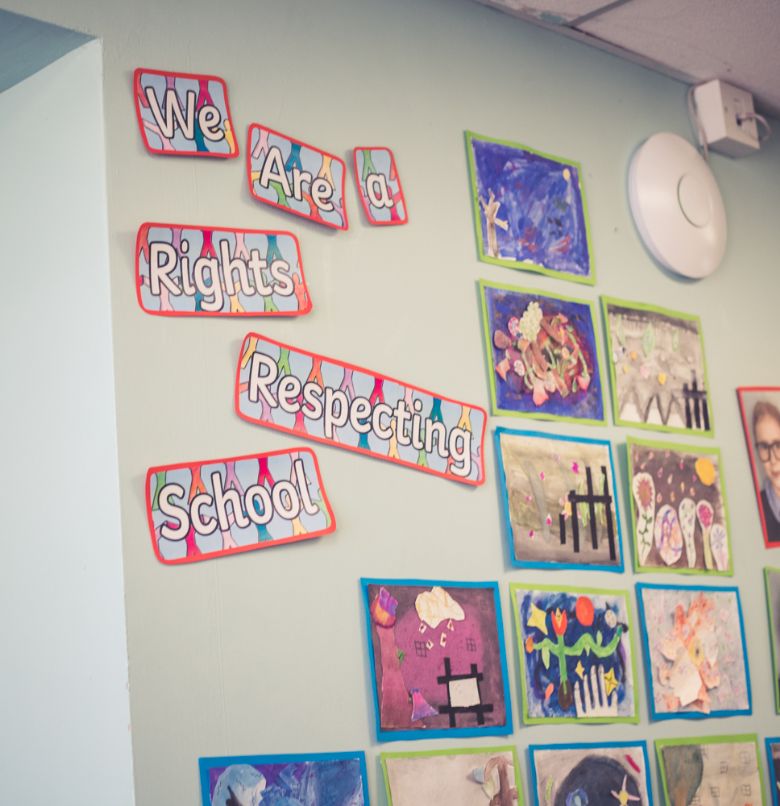 It aims to develop skills and attributes such as resilience, self-esteem, risk-management, team working and critical thinking in the context of three core themes: health and wellbeing, relationships and living in the wider world (including economic wellbeing and aspects of careers education).
Out of the three main strands (Health and Wellbeing, Relationships and Living in the Wider World), the first two are now statutory as of September 2021. They are often referred to as RSE (Relationships and Sex Education) or RSHE (Relationships, Sex and Health Education) but come under the main subject of PSHE.
The third 'Living in the Wider World' strand is not compulsory. However, it is stated in the OFSTED 2019 Framework that Inspectors will make a judgement on the personal development of learners by evaluating the extent to which: the provider prepares learners for life in modern Britain by: − equipping them to be responsible, respectful, active citizens who contribute positively to society − developing their understanding of fundamental British values − developing their understanding and appreciation of diversity − celebrating what we have in common and promoting respect for the different protected characteristics as defined in law.
What does PSHE (including RSE / RSHE) currently look like across the school?
Children have weekly PSHE lessons in which we follow the Life to the Full scheme of work. This covers all statutory objectives for the provision of Relationships, Health and Sex Education in an age appropriate way. The programme adopts a spiral curriculum approach so that as your child goes through the programme year after year, the learning will develop and grow, with each stage building on the last. (There is more information about the Life to the Full scheme of work in the RSE section of our website. This section also includes the Department for Education's statutory objectives.)
Physical and mental health is also taught and prioritised outside PSHE sessions. We deliver a comprehensive programme of Physical Education (PE) across the school which allows every child to have a full afternoon of PE taught by specialist teachers. Class teachers also take children out for regular daily exercise breaks. KS2 have half-termly mile runs and there are many sports clubs available to all children. Healthy eating and healthy lifestyles are discussed in PE lessons and in certain year groups the Science curriculum also educates them about ways to keep their bodies healthy. First aid skills are taught to all children.
Mental health is also discussed in PE lessons where children are introduced to the concept of mental health and why it is important to look after our minds as well as our bodies. All teachers are passionate about looking after children's mental health and our teaching and pastoral care reflect this. There is a section on our website which explains the importance of mental health and how we can further support both children and parents.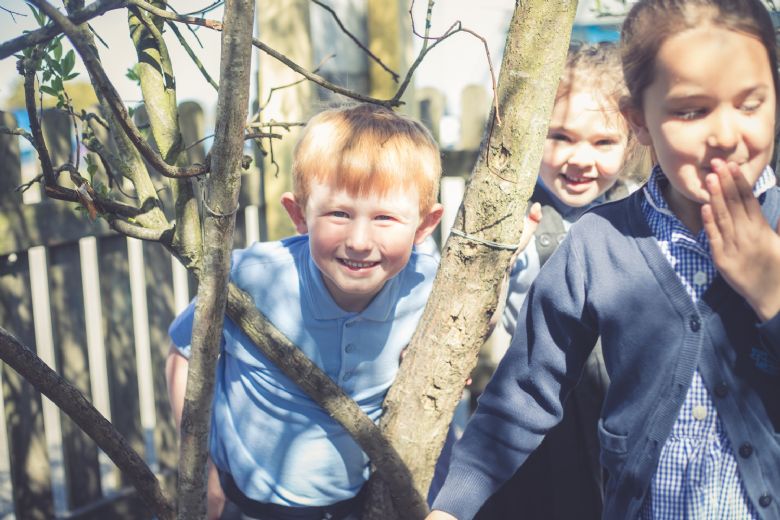 Children learn about online safety and relationships online through both PSHE and their ICT lessons.
The 'Living in the Wider World' strand of PSHE focuses on preparing all children for life in modern Britain by equipping them to be responsible, respectful, active citizens who contribute positively to society.
All children are familiar with British Values and these are regularly referenced within our teaching. There is a section on our website which explains British Values further.
Our whole curriculum reflects our school Vision and Values : We are an inclusive community, committed to ensuring equality of education and opportunity for all, irrespective of race, gender, disability, faith, religion or socio-economic background. The school has invested heavily in resources that mirror the world in 2021 to ensure we continue to celebrate diversity. For example, dolls and puzzles in EYFS and KS1 have been replaced, the school reading scheme has been updated and each class library has been given new reading resources.
Our behaviour policy promotes dialogue between teachers and children as regards expectations of behaviour. Having a no reward or sanction policy helps children develop good behaviours through choice, setting them up for success in the wider world.
A 'Wonderful World of Work Week' is usually held in the summer term. The focus is on children's aspirations and awareness of career opportunities. We also have a Science Week which promotes an awareness of roles within Science and within this, gender equality is addressed and promoted.
The school subscribes to First News, a children's newspaper which keeps children up to date with news and issues in the UK and around the world and which opens up discussion in classrooms about current affairs.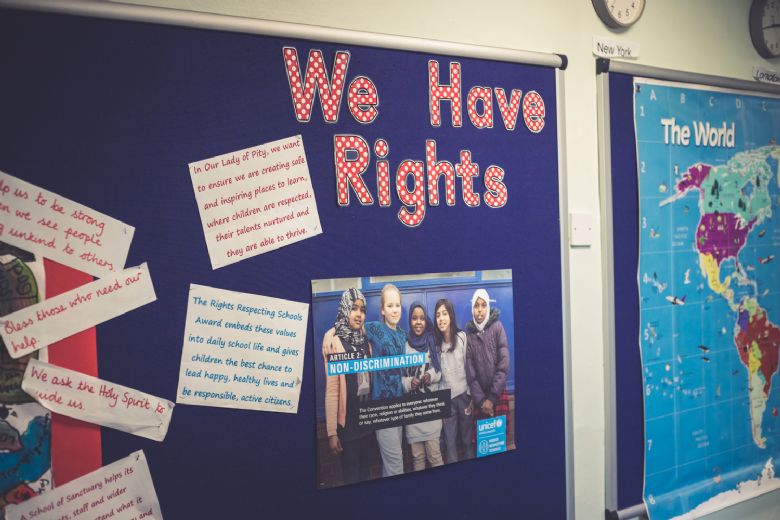 We are a Rights Respecting School and an Eco School, both of which equip children with knowledge that contributes to them becoming responsible, respectful and active citizens.
Lastly but perhaps most importantly, the Catholic ethos of the school and the messages children learn through RE lessons, collective Prayer and Liturgy and through the school's charitable work, contribute to and complement their learning through PSHE.
Music
Why Teach Music?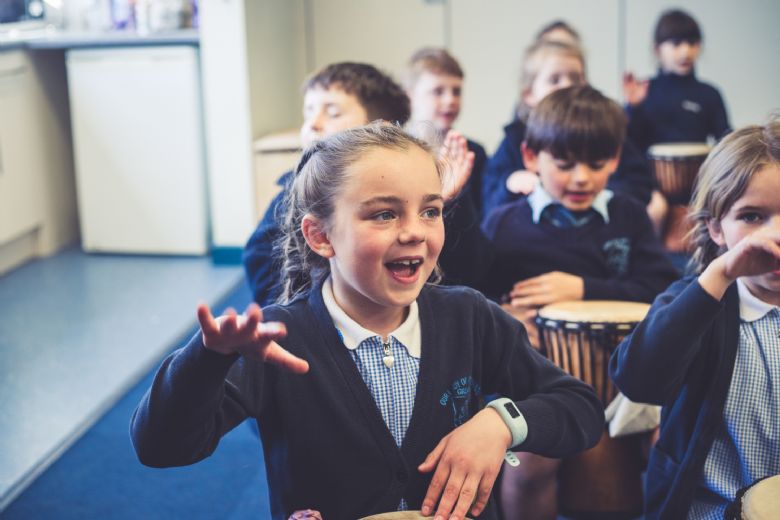 A proper music education enables success, not only in the art itself but in all areas - academically and socially.
Music is unique. It demands focus, vision and critical thinking whilst promoting individualism and creativity. It has been scientifically proven to improve our mental capability (this is especially true of struggling learners). Interestingly, learning a musical instrument strengthens links between the different areas in the brain - deciphering notes and rhythms on one side and appreciating the emotive qualities on the other.
We believe that a high-quality music education should begin early in a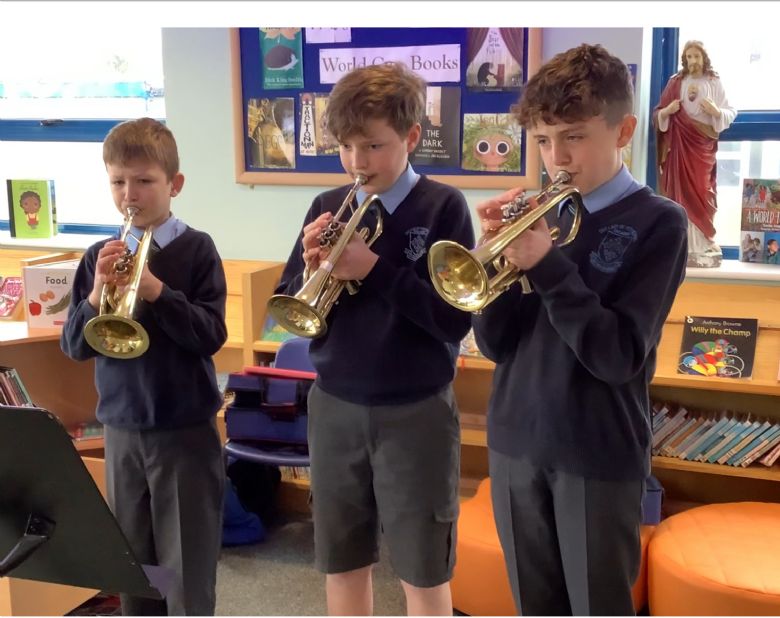 child's school career because it can shape the way that we learn. We use music to understand language, through tone and emotion. It is not just an art – it's an idea. One hears a melody and is moved; it makes one feel emotions. The notes and rhythms imply things but it's up to the listener to supply meaning. Music is abstract and yet it doesn't need anything outside of itself to be understood. It is empowering and encourages self-discipline as ever more layers present themselves for exploration.
As Plato said: 'I would teach children music, physics and philosophy; but most importantly music, for in the patterns of music and all the arts, are the keys of learning.
The Charanga Musical School Scheme provides teachers with week-by-week lesson support for each year group in the school. It is ideal for specialist and non-specialist teachers and provides lesson plans, assessment, clear progression, and engaging and exciting whiteboard resources to support every lesson. The Scheme supports all the requirements of the national curriculum.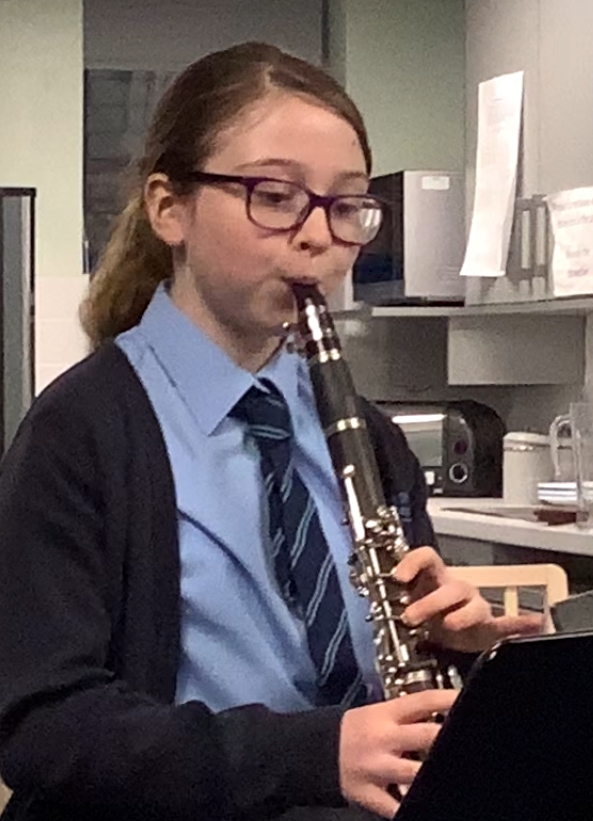 In line with the curriculum for music and guidance fr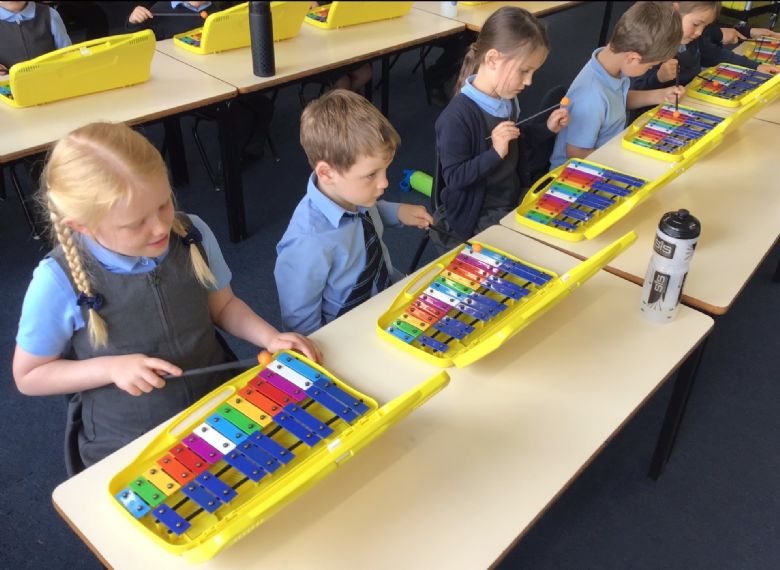 om Ofsted, this Scheme moves away from the previous levels and learning objective/outcome concepts to an integrated, practical, exploratory and child-led approach to musical learning. Charanga Musical School Units of Work enable children to understand musical concepts through a repetition-based approach to learning. Learning about the same musical concept through different musical activities enables a more secure, deeper learning and mastery of musical skills.
Geography
Why Teach Geography?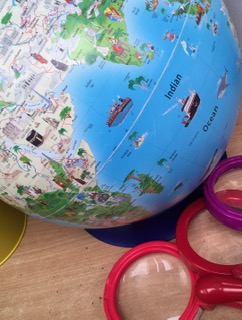 'Geography explains the past, illuminates the present and prepares us for the future. What could be more important than that?'- Michael Palin.
Earth is our home in space. A unique speck in an unimaginably vast universe. It is the only planet in our solar system capable of supporting life as we know it. It provides us with all of the resources we require for day to day living, yet our actions today will influence its future survival. It is the keeper of countless discoveries we have yet to find. Despite its magnitude, our world is very much interconnected, and it is Geography that helps us to identify and explain those connections, whilst constantly seeking to unveil new and exciting findings.
'The study of geography is about more than just memorising places on a map. It's about understanding the complexity of our world, appreciating the diversity of cultures that exists across continents. And in the end, it's about using all that knowledge to help bridge divides and bring people together' Barack Obama
At Our Lady of Pity RC Primary School, we believe that Geography helps to provoke and provide answers to questions about the natural and human aspects of the world. Children are encouraged to develop a greater understanding and knowledge of the world, as well as their place in it. Geography is, by nature, an investigative subject, which develops an understanding of concepts, knowledge and skills. This understanding will involve developing a student's graphical, numeric, literary and scientific skills, fostering their independence and inquisitiveness. The enquiry approach into topical geographical issues, will maintain children's interest and relevance to their own lives and their appreciation of the world around them as an awe-inspiring environment which they have a role in sustaining. This approach also enables our children to become critical thinkers who provide possible solutions to deal with current and potential issues at local, national and international level.
Thinking geographically offers a uniquely powerful way of seeing the world and at Our Lady of Pity RC Primary School we encourage the children's love for and appreciation of the world around them through this practice. Our Geography curriculum provides the perfect platform for us to drive forward our Christian/Catholic values/vision by contributing to the cultural, social, spiritual and moral life of children, as they acquire an understanding of a range of different cultures and traditions. We seek to inspire our children to develop a curiosity, love and fascination for our world and their place in it, for many years to come.

History
Why Teach History?
'I encourage all of us, whatever our beliefs, to question the basic narratives of our world, to connect past developments with present concern, and not to be afraid of controversial issues.' Dr Yuval Noah Harari, Historian and author Sapiens, Homo Deus and 21 Lesson for the 21st Century.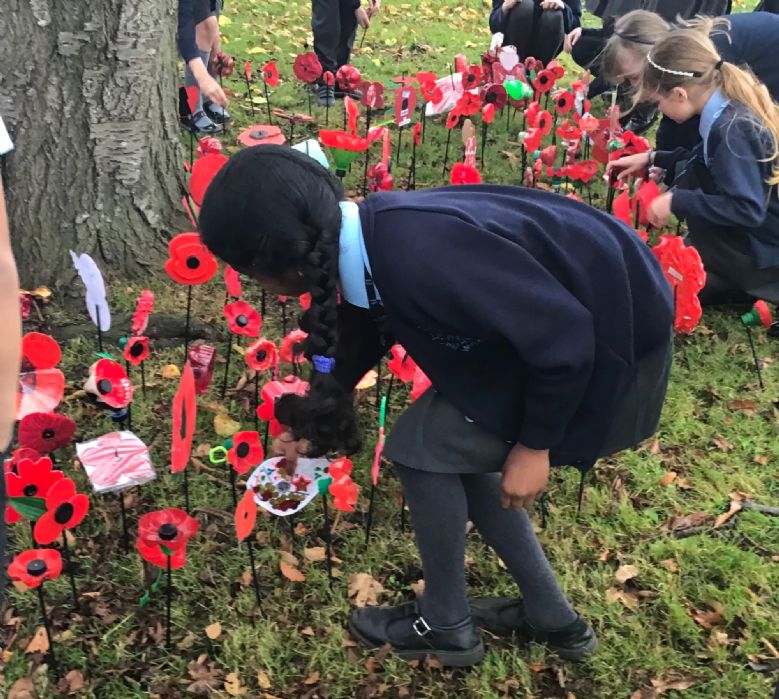 The discipline of history tells us that nothing should be taken for granted, even if everybody else believes something to be so. It is a common misconception that studying history simply involves remembering people, events, key dates and places. However, history is a multifaceted discipline that will increase learners' cultural awareness and moral understanding of the world we live in today, indeed the past and the future are two sides of the same coin. The study of history offers learners skills that are transferable across a variety of future disciplines as well as building future members of society who are informed and can think critically. Building knowledge and more importantly understanding of historical events and trends, particularly over the past 150 years, enables us to develop a much greater appreciation of today's current events. This understanding gives the scope for lessons to be learnt from past mistakes in order to shape an inclusive and progressive collective future.
Design and Technology
Why Teach Design and Technology?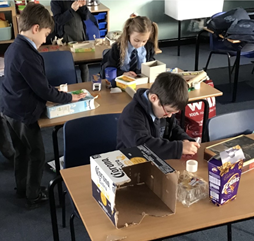 As the British inventor, Sir James Dyson said, 'Enjoy failure and learn from it. You can never learn from success.' In all areas of Design and Technology, children learn how to take risks, make mistakes and think differently. Through encouraging an inquisitive mind and attitude, pupils' learn how to be resourceful,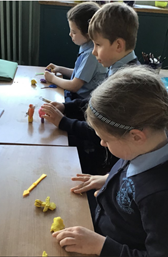 innovative and enterprising. Design and Technology should create opportunities for children to engage in an iterative design process, linking thought and action. Teaching should provide pupils with real-life design challenges, for which children need to design and make functional products for specific users.

We believe that Design and Technology encourages children to become autonomous and prepares them to become creative problem solvers. Children should be actively encouraged to think about important issues, including enterprise, and to evaluate past and present design, when exploring design solutions to improve and impact on daily life. We live in a rapidly changing world and it is vital children are encouraged and inspired to become the innovators, chefs, designers and engineers of the future.
Art and Design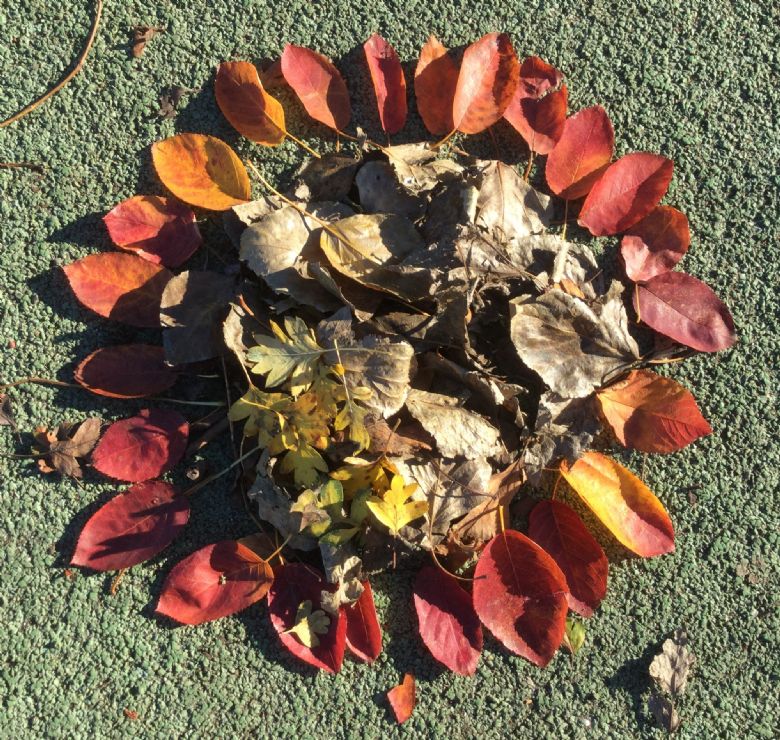 Why Teach Art and Design?
The acclaimed painter and sculptor, Edgar Degas, once said, 'Art is not what you see, but what you make others see.'
Art stimulates powerful emotional responses and promotes imagination in response to a variety of human experiences and observations. We often use art to express what words can't. Art can allow children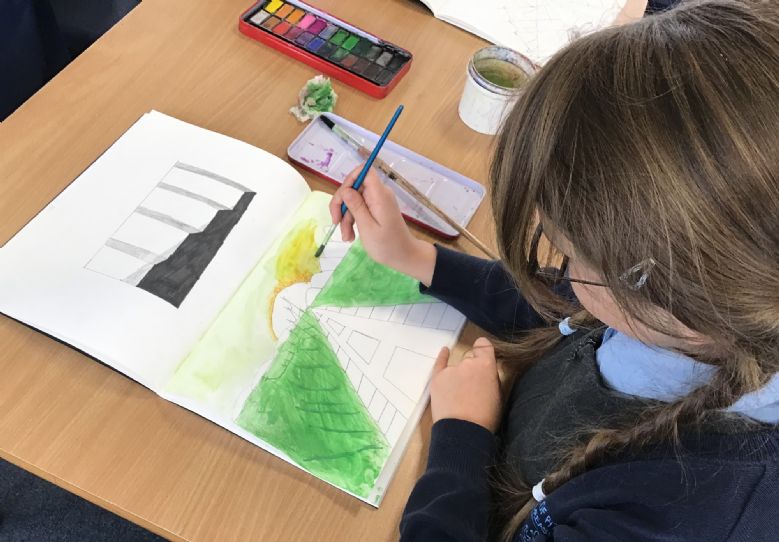 to communicate and explore ideas, feelings and meaning from deep within. Teaching should equip pupils with the necessary skills, concepts, subject knowledge and confidence to express themselves and respond to stimuli. Exposing pupils to vocabulary and works from a diverse range of male and female artists and designers from different eras and cultures will develop their ability to make connections, form opinions and understand a variety of art styles.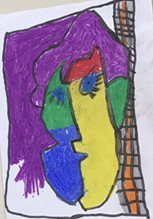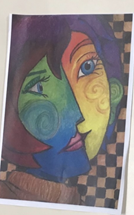 We believe pupils need to observe work from different artists and artistic periods to learn and understand how subjective art can be, and to appreciate and value images and artefacts. Delivering an art and design curriculum in a cross-curricular way enhances the pupils' understanding of historical, cultural and geographical concepts and allows for balanced understanding and knowledge of art skills and techniques. Providing pupils with opportunities to develop their creativity and critical thinking, equips them with the skills to reflect, experiment, take risks and ultimately, become autonomous and develop a personal style of art.
Latin
Why Teach Latin?
"There are so many benefits to learning Latin. As well as being an interesting curriculum subject in its own right, it can also support the development of literacy skills and critical thinking skills." Dr Arlene Holmes – Henderson Classics in Communities Oxford University.
Since 2014, the National Curriculum requires all Key Stage 2 children to learn a language. "A high – quality languages education should foster pupils' curiosity and deepen their understanding of the world. " ( 2014) An option, is for primary schools to teach Latin or Ancient Greek rather than then the usual French, German and Spanish , or more popularly, Mandarin which appears to be seeping from our secondary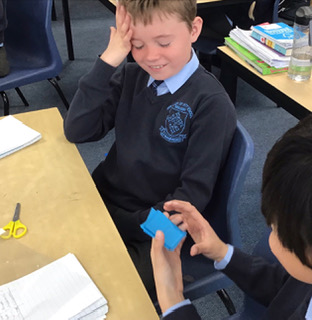 schools into primary year on year. In choosing to teach Latin, we find ourselves more in line with the Department of Education whose rationale regards it as providing the foundations for learning any modern foreign language and to develop reading comprehension. This view is further supported by academic, Dr. Lorna Robinson, founder of the Iris Project ( an initiative to promote Latin in state schools ) , who believes that learning Latin for young children, is yet another way into supporting literacy as it helps children to make the connection between Latin and English grammar and vocabulary. It also provides an opportunity to explore a deeper cultural knowledge and has enormous cross curricular potential as well as helping children with Maths and Science vocabulary.
Clearly, the link between learning Latin and the reading, spelling and writing of the English language is irrefutable given that half of our English vocabulary is made up of Latin words. But what of other subjects? What impact does learning Latin have upon these?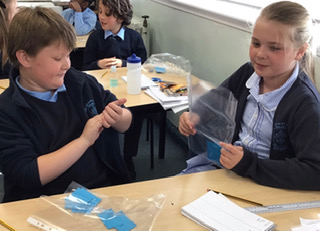 Maths for an example, this is also a language, a logical one that requires systems, detail and thinking in an orderly manner. It draws from different alphabets and uses unique symbols. The grammatical structure of Latin has much in common with mathematical logic, and learning Latin may have knock –on benefits.
Similarly, if we are to encourage children to one day work in the scientific field, become doctors or nurses or lawyers, Latin can make their studies easier and fast track their careers. Latin provides the root words for the specialised vocabulary found in these subjects, the child who has learned Latin is already half way there.
Ongoing research, suggests that not only are academic outcomes raised but Latin helps stretch and develop children's minds and the more Latin they learn, the better they may well be in other subjects.
Teaching Latin is far more than children simply learning a new language, it dee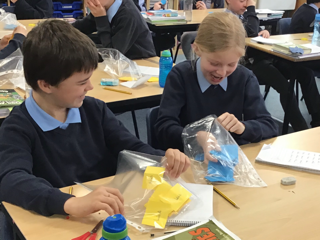 pens their understanding of their own language, it provides pathways to career opportunities in the future, it explains the cultural history of the World and encourages them to think logically and critically.
In Our Lady of Pity, Latin is delivered throughout the Junior department using the Minimus scheme for years 2 to 5 and the Secundus scheme for year 6. Each chapter covers a range of vocabulary and grammar whilst at the same time teaching children about the lives and culture of people living in an Ancient society.
Computing
Why Teach Computing?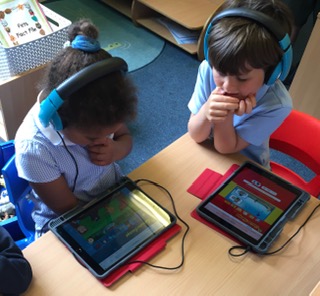 In 2015, Nicholas Negroponte (founder of the One Laptop Per Child Association) is quoted as saying 'computing isn't about computers any more; it's about living.' He suggests that we should no longer see computing as a desirable skill, but a necessity.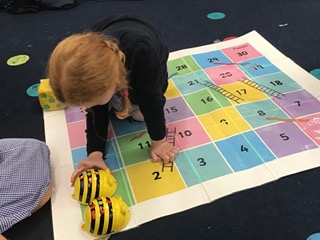 Like mathematics, computing starts with a problem, aiming through trial and error to provide workable solutions. This reflects life. We duplicate the solutions found by others, adapt them to meet our own needs so that we are increasingly able to solve new, unique and ever-more remote problems. Through computing, we are able to solve an ever-increasing number of the world's complex and challenging problems. In so doing, we make a positive difference in the world. We live in the present whilst shaping our knowledge and understanding for the future.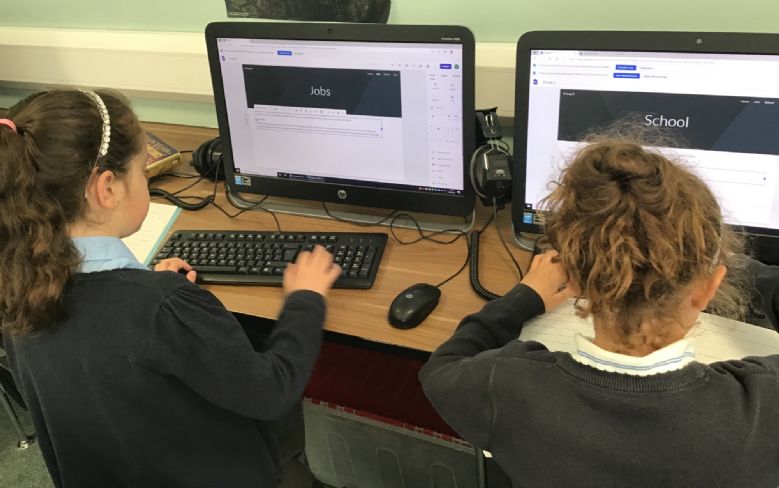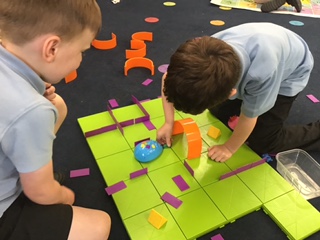 Through a computing curriculum, we teach digital literacy – a new language and way of thinking. Once acquired, we teach pupils how to use it in a safe and responsible way. We also teach information technology, exposing our children to a plethora of opportunities to use functional technology such as searching for and collating information. Last, we teach pupils that digital literacy and information technology are underpinned by computer science – the 'how' of computers and networks.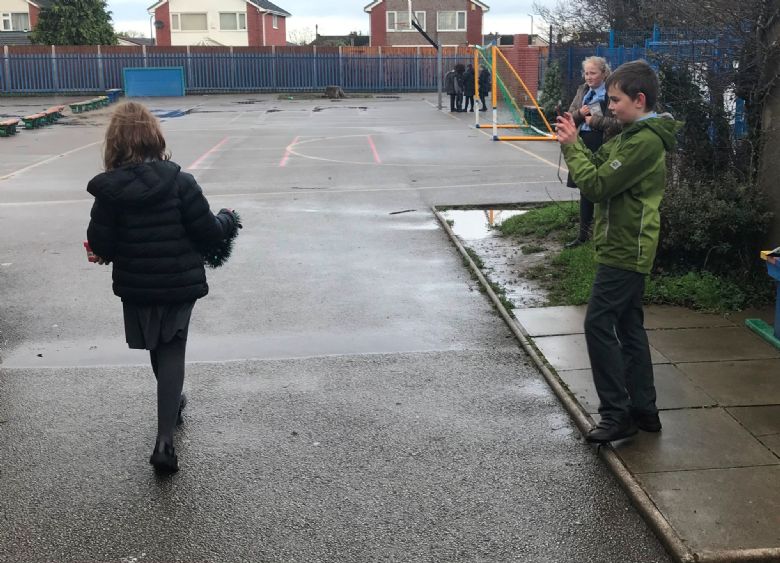 With a significantly growing proportion of our lives lived online and using technology, we have a moral responsibility to provide pupils with a world-class computing curriculum, which allows them to respond to the growing number of opportunities and challenges they face.
PE
Why Teach Physical Education?
"Physical fitness is not only one of the most important keys to a healthy body. It is the basis of dynamic and creative intellectual activity". John F. Kennedy
The importance and value of PE is indisputable. It is the only curriculum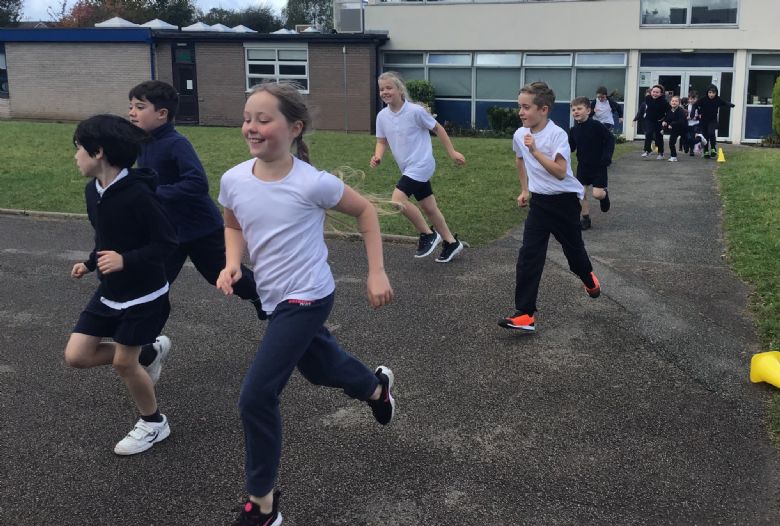 area which can positively influence a child's physical, mental and social well-being. It can develop key life values and skills, provide the building blocks for the development of happy and productive relationships and give children the confidence and self-belief needed to achieve. PE should be at the heart of every school. It should be celebrated and enjoyed so that children reap the benefits of all that this subject has to offer.
Having a curriculum which promotes high levels of physical activity for children provides an abundance of physical benefits. Physical benefits are those which directly impact on the body and body function. Active children will have an improved cardiovascular system, increased levels of strength and endurance, a greater understanding of how the body works and will know how to maintain and improve fitness levels. Being active can also prevent the onset of obesity as well as health related conditions caused by obesity. Activity can also prevent sleep deprivation. PE develops gross and fine motor skills such as hand-eye coordination, key body movements and posture. It is vital for healthy growth and development, particularly of bones but is also important for the prevention of injury. If schools establish and embrace the ethos of being an 'Active School' and fully adopt the expectation that children should do a form of physical activity every day, this will promote a lifelong love and involvement in activity.
Physical activity and school sport contribute massively to the development of children's social skills which, in turn, can impact and influence healthy behaviours. Sport, whether it is team based, individual, competitive or recreational, promotes fairplay, honesty and sportsmanship as well as improving children's ability to deal with success and defeat. It allows children to develop their resilience and determination as well as learn key life skills such as communication and co-operation. As many sports are not solely about participation, taking part in school sport will allow children to carry out different roles such as leadership, coaching and officiating. This means children can be actively involved in sport through a variety of means whilst simultaneously gaining skills which can be transferred into future careers.
Extensive research has been carried out on the positive relationship between physical activity and improved mental health. A Physical Education programme which is broad and exciting offers multiple opportunities to improve a child's mental wellbeing both in the short and long term. Participating in exercise releases 'feel good' chemicals which noticeably improve a person's mood. This in turn contribu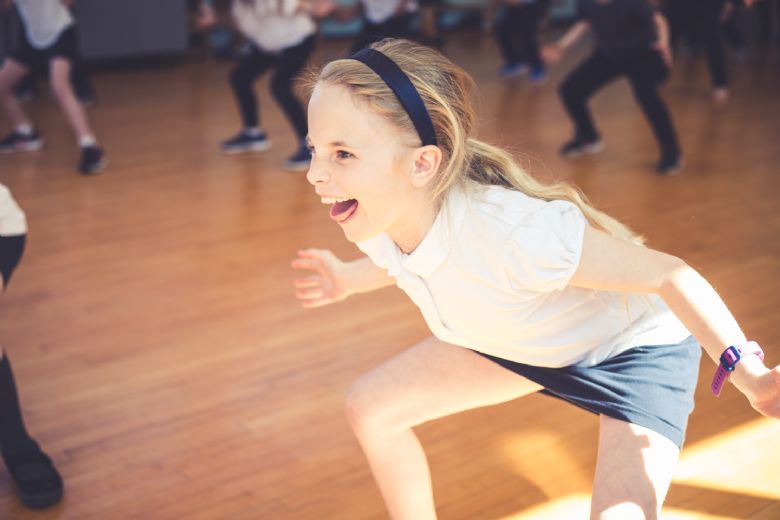 tes to lower anxiety and stress levels. With regular participation in activity, children and young people learn to use sport as a way of coping with stress, avoiding the onset of stress related illness. The physical changes (improved body image) that take place and the improvement in skill that comes with regular participation in exercise can often lead to increased self-esteem and self-confidence. This increase in confidence is then transferred to all aspects of their life – forming new friendships, trying new activities or speaking out in class unafraid of being noticed. It also leads to improved focus and concentration resulting in improved performance in the classroom.
Incorporate literacy and numeracy strategies
Develops the ability to use tactics, strategies and compositional ideas to achieve a desired outcome
Improves the ability to analyse, make decisions, reflect upon choices and refine
If we want our children to be productive, enterprising, successful, vibrant, inclusive, tolerant, inspired and positive, we need to put PE, sport and regular physical activity at the heart of school life. We need to give children every opportunity to learn the skills and values that they will need to have a happy, healthy and successful life. PE is the subject to do this.